Roofing Company Core Values
VALUABLE EXPERTISE. BETTER RESULTS.
We are committed to live our Roofing Company Core Values every day
Our customers are our top priority
and we will never compromise on these four non – negotiable values.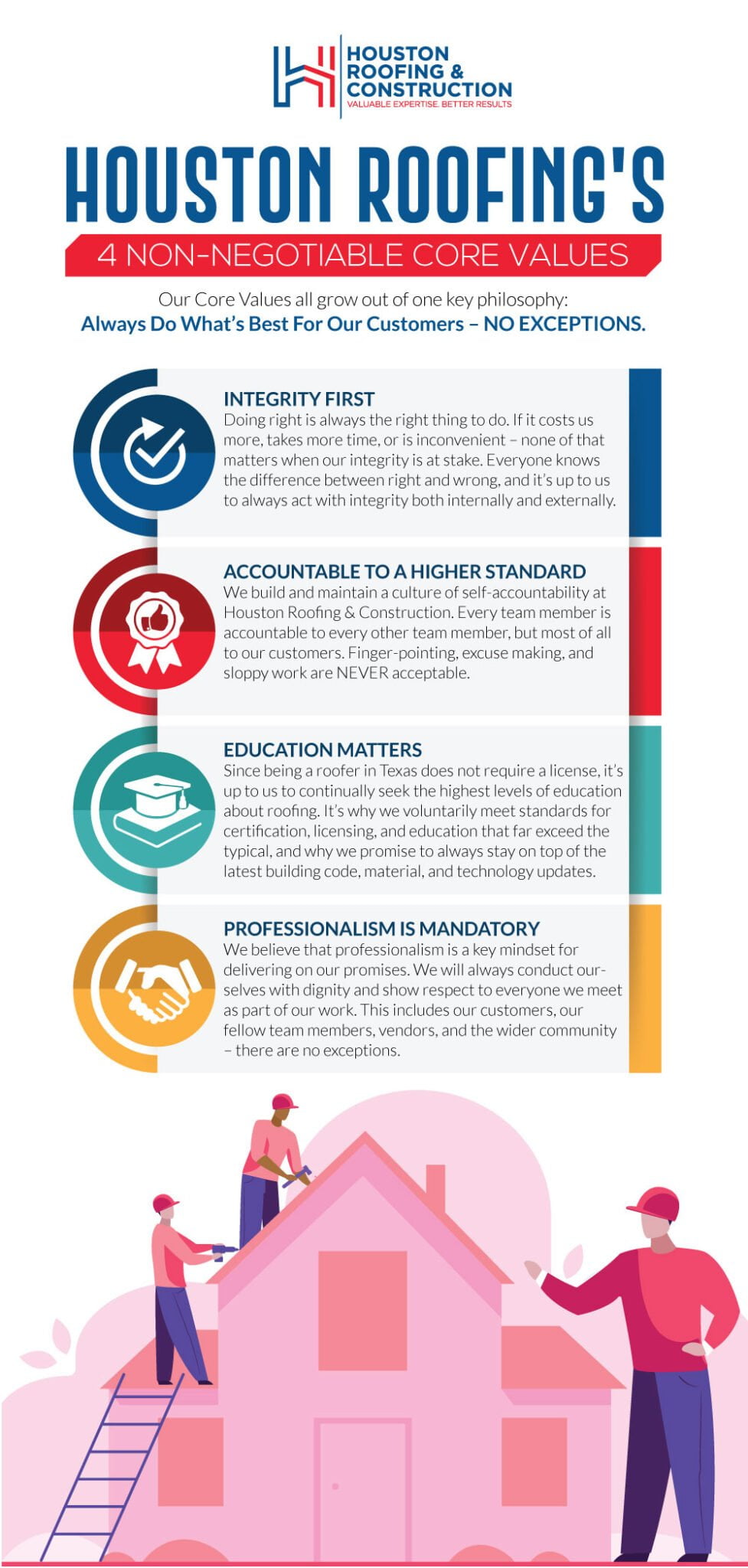 Without a strong set of core values, companies can lose sight of their standards. And once standards start to slip, it can be difficult to get back on track.
Roofing Company Core Values
At Phoenix Roofing & Construction, we believe that core values are essential for success. That's why we have created a Core Values statement that guides our decision-making every day. Our core values are:
We believe that these core values will help us to achieve our goals and build a successful company.
Our core values are based on the principle of always putting our customers first. We believe that by doing what is best for our customers, we will always be successful.
We uphold this principle by:
Acting with integrity: We always do what is right, even when it is difficult or inconvenient.
Empowering our team members: We believe that everyone is accountable for their own actions, and we hold ourselves and each other to high standards.
Continuing education: We are committed to staying up-to-date on the latest industry standards and best practices.
Professionalism: We conduct ourselves with dignity and respect at all times.
The Importance of Core Values
We could save money by cutting corners and lowering our standards, but we choose not to. We believe that providing excellent service and quality products is more important than making a quick buck.
Here are some of the ways in which we go above and beyond to provide our customers with the best possible experience:
We use only the highest quality materials. We know that your roof is an important investment, and we only use materials that are built to last. We use materials that are resistant to the harsh Arizona climate, and we also offer a variety of warranties on our materials.
We have experienced, certified employees. Our fellow team members have years of experience in the roofing industry, and they are all certified to work on roofs. They are experts in all types of roofing, from simple repairs to complete replacements. They are also trained in safety, and they are committed to working safely and efficiently.
We offer a wide range of services. We can do everything from a simple roof repair to a complete roof replacement. We also offer a variety of other services, such as gutter cleaning, chimney repair, and solar panel installation.
We are fully insured and bonded. This means that you can be confident that your project will be completed safely and professionally. We are also committed to protecting your property, and we carry insurance that will cover any damage that may occur during the course of our work.
We offer a satisfaction guarantee. We are so confident in our work that we offer a satisfaction guarantee on all of our projects. If you are not happy with our work for any reason, we will do the right thing and make it right.
We know that you have a lot of choices when it comes to Phoenix roofing companies, but we believe that we are the best choice for you. We offer the highest quality materials, the most experienced and certified employees, a wide range of services, and a satisfaction guarantee.