VALUABLE EXPERTISE. BETTER RESULTS.
Expert Storm Damage Roof Repair Services
For The Phoenix Area
Leave the insurance claims, repairs, and any other challenges to us.
We'll take care of it all and handle whatever comes our way.
Determining roof damage after a storm can be quite tricky, especially when you're dealing with the need for Storm damage roof repair. It may be evident at times, but other times it requires a trained professional to identify.

To accurately assess storm damage, it's crucial to reach out to a reliable Phoenix roofing company. They can provide a comprehensive evaluation of the damage, ensuring nothing is overlooked.
Storm Damage Roof Repair Overview
Storm Damage Roof Repair Showcase
Storm Damage Roof Repair FAQ
Why Choose Phoenix Roofing
Reviews
Schedule Your Consultation
Storms Can Be Frightening — But Repairing
Your Roof Doesn't Have To Be!
Our Storm Repair Services In A Nutshell
Prepare for the aftermath of unexpected storms like wind storms, hurricanes, or heavy downpours.
Storms vary in size, just like roofs!
Mother Nature can cause roof storm damage quickly
Storms can quickly damage your roof, regardless of their size or type. Detecting visible damage without an expert's assessment is challenging. That's why our roofing company specializes in storm damage roof repairs in Phoenix. Even minor damage can lead to water penetration and harm to your attic and home.
Common Storm Damage That Requires Roof Repairs
Severe weather can damage your roof, requiring prompt repairs to prevent further property damage. Common types of storm damage include:
Missing or cracked shingles
Hail damage
Leaks
Water pooling
Hail damage is a serious threat to your roof, causing indentations and holes in the shingles. Once hail damages a roof, it cannot be repaired, and there is no such thing as "a little hail damage."
Assessing storm damage on asphalt shingles can be complex, especially when dealing with unsealed tar strips during high winds, which may result in shingle lifting and make damage evaluation challenging.
Storm Damage From Flying Debris
Flying debris, often unseen from the ground, can cause significant roof damage. Contact our roofing experts for a free inspection to ensure your roof is in optimal condition and protect your home from water damage.
Essential information on filing a storm damage roof insurance claim that you need to know
It is crucial to have a qualified roofing company present during insurance adjuster visits to protect your interests. At Phoenix Roofing & Construction, our experienced project team can guide you through the claim process and conduct a thorough damage inspection. We offer emergency services and a comprehensive project plan to ensure repairs are completed efficiently, within budget, and cover the cost of water damage caused by high winds or other storms.
Why Choose Phoenix Roofing
5 Key Reasons To Pick Up The Phone Today!
We prioritize quality, professionalism, and attention to detail to ensure complete client satisfaction throughout the project.
#1: Expert Project Management
Our dedicated project managers, experienced in software development and armed with our RCAT license, GAF Master Elite certification, and BBB A+ rating, ensure efficient handling of insurance claims for Phoenix roofing projects. They have in-depth knowledge of management processes to deliver high-level results within the specified time and budget.
As a family-owned roofing company deeply rooted in the Phoenix community, we prioritize our customer's needs and provide personalized service. With our extensive knowledge of Phoenix's weather patterns and the potential for water and wind damage, we are well-equipped to assist with insurance claims.
#3: Hassle-Free Experience
Experience a seamless and stress-free roofing process with our skilled project managers and advanced technology. We streamline the repair or replacement process, ensuring a smooth journey from assessment to completion.
#4: Transparent and Honesty
Transparency and honesty are fundamental principles we uphold. We believe in providing transparent communication, honest assessments, and practical solutions. Our team will never push unnecessary replacements and will work to maximize your insurance coverage.
#5: Core Values at the Heart
At the core of our company values, we prioritize quality work, customer satisfaction, and efficient project life cycles. Our dedicated team members are committed to delivering exceptional results as your trusted roofing contractor.
Take a look at some of our previous projects for storm damage repairs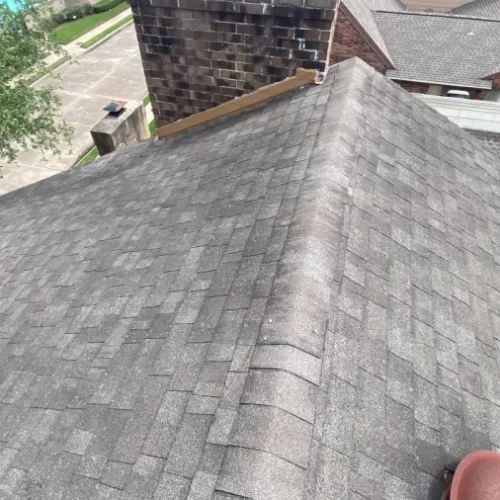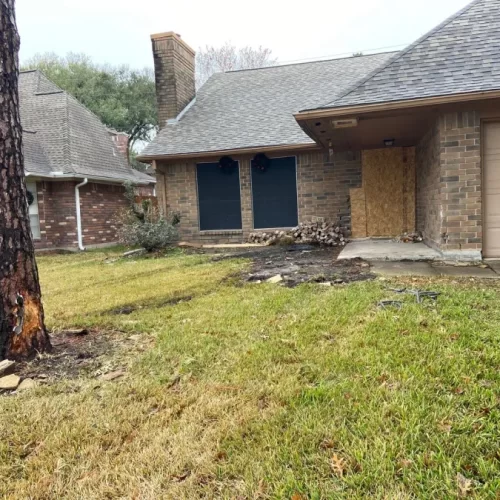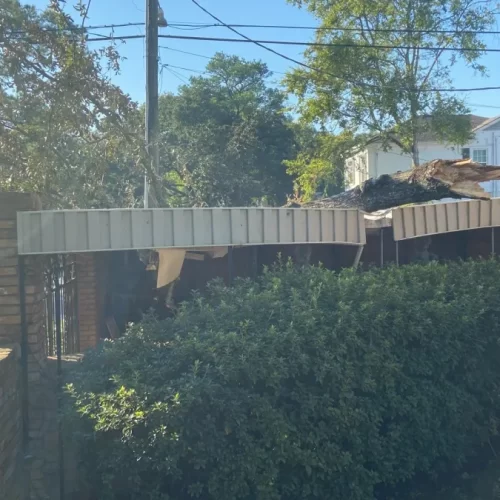 A Few Reviews From
REAL Phoenix Residents
We Love When Customers Share Their Stories…
Storm Damage Repair FAQ From Homeowners
Check our Service Areas page for hail damage repairs in Phoenix and nearby areas.
The severity of storm damage will determine the appropriate cost. We offer affordable financing options for roof repair or replacement.
We serve both residential and commercial structures in Phoenix without any exceptions. Our goal is to assist all residents, regardless of their circumstances.